The Hub Hotel is a Trauma-Informed Designed Transitional Living Home for Women
The Hub Hotel is the region's first barrier-free emergency shelter for women. It is a thoughtfully created and trauma-informed space to promote healing and provide the stability guests need to move out of homelessness.
The shelter welcomes all women, including trans women, and their accompanying children. To ensure that spaces can accommodate the varying needs of guests, the Hub Hotel has 31 beds, 17 trundle beds, and several playards and cribs. The shelter also has nine guest bathrooms, a laundry room, quiet room, outdoor patio, snack room, and family room.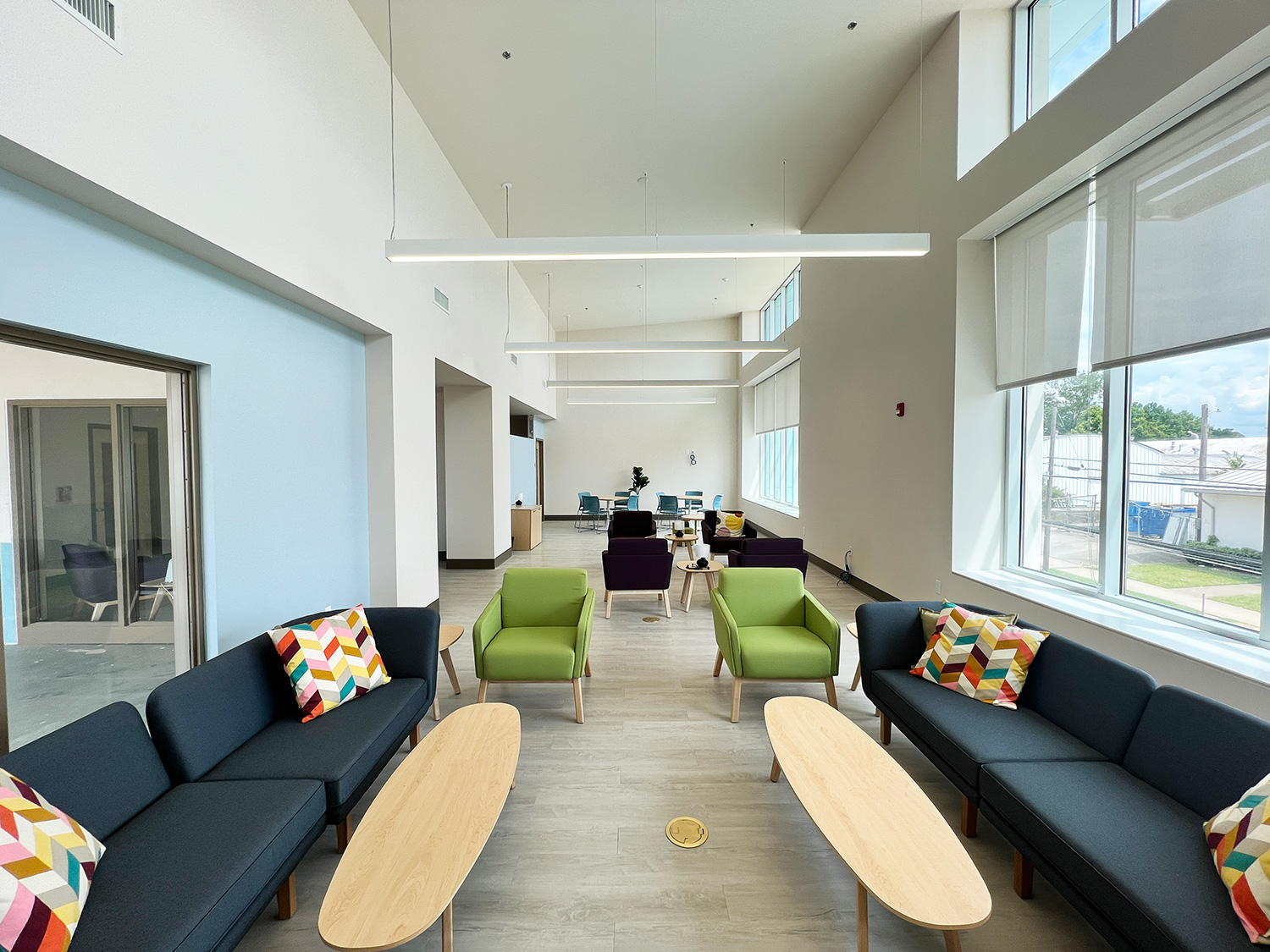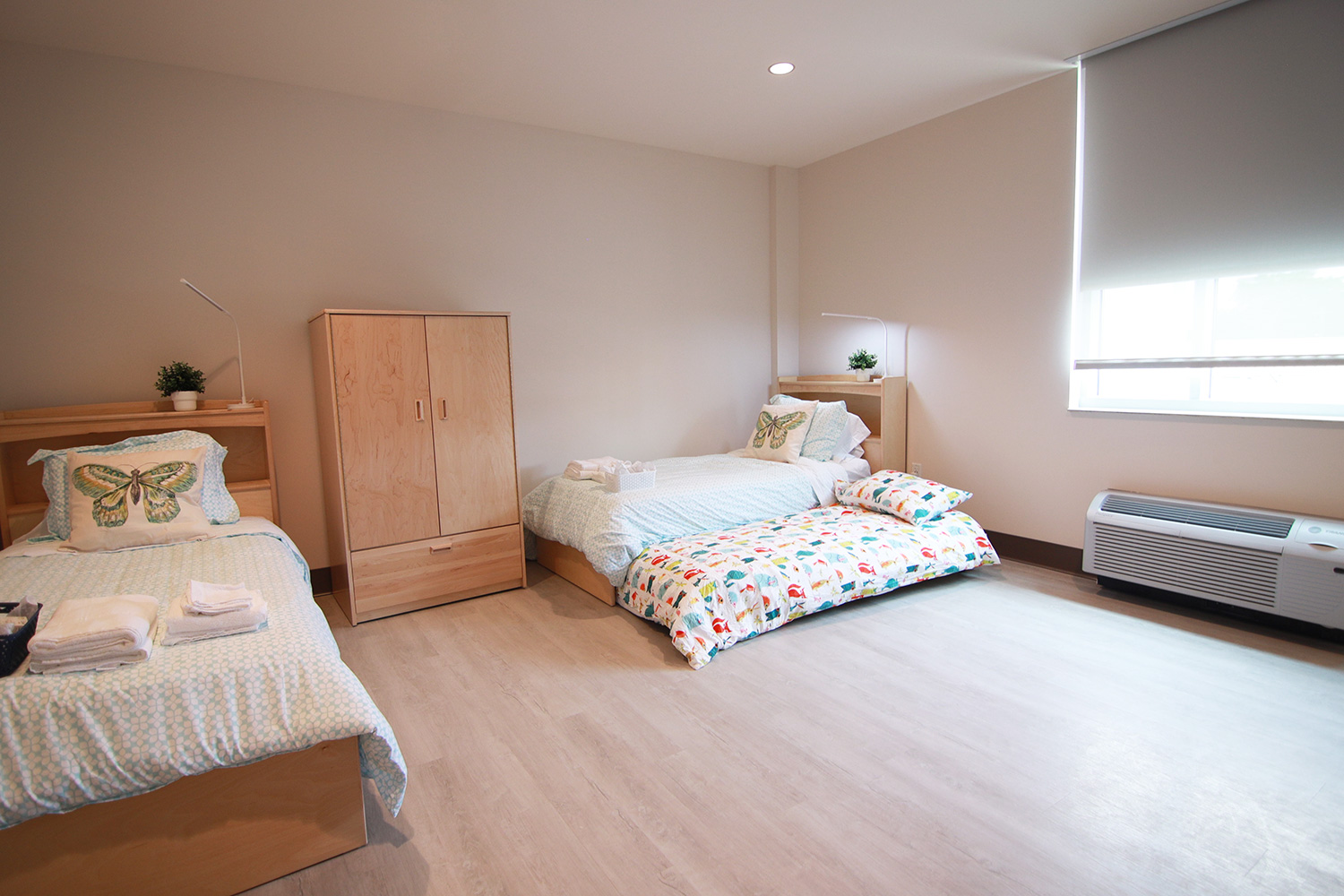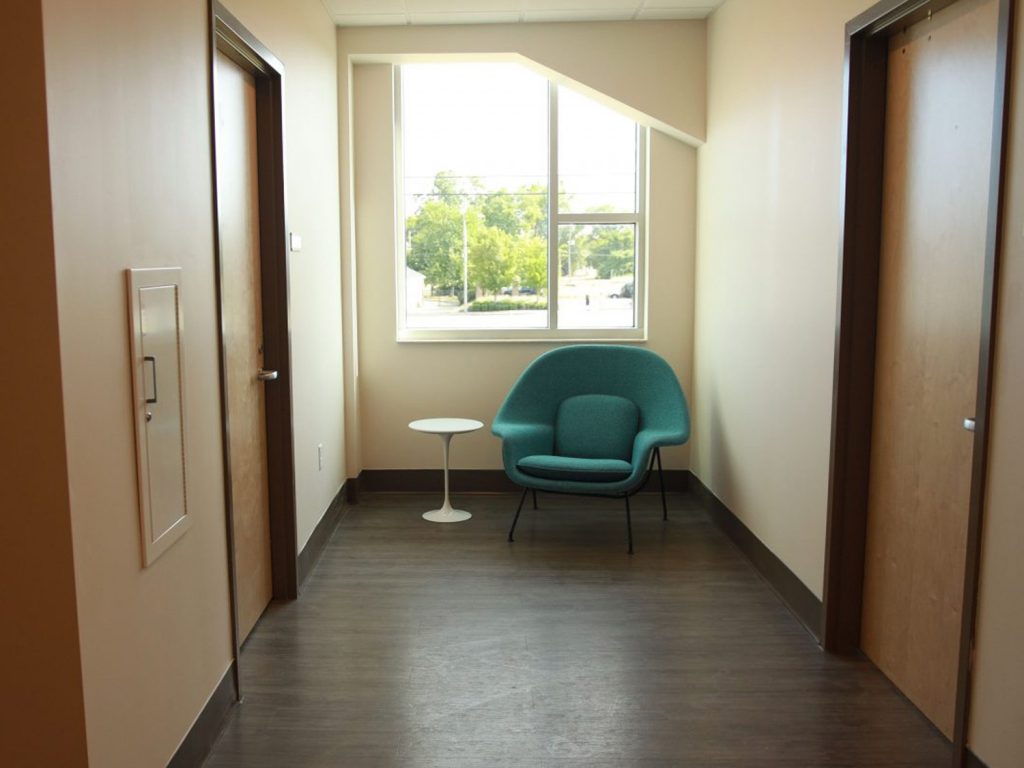 The Hub Hotel's design is trauma-informed, meaning that the textures, colors, shapes, and spaces promote a sense of calm, safety, dignity, empowerment, and well-being. Spaces, a Memphis-based, women-owned company, generously contributed their time to select the optimal furniture for each space in the building and also donated furniture pieces. The throw pillows, plants, and comforter covers in each room were donated by Ikea, which has also supported the furnishing of the Hub Studios.
The Hub Hotel is barrier-free, meaning there are no obstacles to accessing services.
The Hub Hotel operates on the premise that homelessness results from economic and systemic failures—not personal choice. We built the shelter to be a safe landing place for women who have experienced marginalization, exploitation, and discrimination. Hub staff meet with each guest to understand their backgrounds, circumstances, and goals to understand what benefits, employment opportunities, and housing options best fit their needs. The Hospitality Hub works to provide stability to guests so they have time to heal and focus on moving out of homelessness.
Scosha Salon
The Scosha Salon is sponsored by Pavo Salon, whose co-owners Scot and Shawn have been working in the beauty industry for over three decades. It has two styling stations, two hair wash stations, and countless hair tools, accessories, and products for Hospitality Hub guests to enjoy. Stylists from across Memphis have lined up to provide services to guests on a volunteer basis.
Kitchen & Dining Room
The Hub Hotel kitchen provides three free meals per day to Hub Hotel guests. When the Hub Hotel program initially began in the wake of the COVID pandemic in 2020, we noticed that donated meals were one of the most stabilizing services provided to guests. Rather than focusing their time, energy, and money on finding their next meal, Hub Hotel guests can re-focus their attention on accessing benefits, job opportunities, and housing.
The dining room, adjacent to the kitchen, is filled with light from the large windows overlooking the private women's garden. It is a communal space to sit with friends and family while enjoying fresh, homemade meals.
The Playroom
As the Hospitality Hub planned the new building, we sought to create a space specifically for families and children who seek services or shelter. In particular, we wanted a space where children could play comfortably as their parents spoke with case counselors. The playroom has toys, books, and child-sized furniture so that kids can be themselves while they're at the Hub.
Private Greenspaces for Hub Hotel Guests
Adjacent to the Hub Hotel Dining Room is a private outdoor greenspace with a water feature, seating, shade structure and tables for alfresco dining. The beautiful space maintains privacy with a soft, undulating fence and plantings that will grow in the coming years to provide distinct areas of seclusion.
The Hub Team and partners will have access to a calm, shaded courtyard in the rear of the building where they can decompress during breaks, host meetings with colleagues, and enjoy moments of privacy.
The Hub Hotel History
The Hub Hotel program began on March 17th, 2020 as a pop-up emergency shelter serving women in response to the onset of the COVID pandemic. In one day, the Hub shifted from operating an intake and referral services location 8 hours per day to running a new 24/7 program in addition to its existing services.
By the end of March 2020, the Hub Hotel program and staff moved into a boutique hotel(The Moxy) in Downtown Memphis to allow for non-congregate shelter to prevent the spread of COVID.
During this time the University of Memphis's Anthropology Department conducted improvisational research for a photo essay on Homelessness and Improvisational Waiting under Covid-19. The photo-essay engages with the central theme of waiting under COVID-19 among a group of homeless women at the LUX hotel in Memphis, Tennessee. The images and text capture the structural shelter-in-place conditions and how the women worked within those regulations to construct a new relationship to time and the self.  Improvisational waiting emphasizes the creative ways women at the Moxy(LUX) Hotel turned experiences of waiting into novel rhythms of life that held the promise of a better future.
In June 2020, Hub Hotel guests moved into the program's new permanent home on N Claybrook Street, where it continues to operate 24/7—providing three meals, dedicated case workers, transportation, and transitional housing to as many as 22 women each day.
The nature of the Hub Hotel program allows our staff to generate a deep familiarity with each guest and the challenges they face. As a result, we offer more targeted solutions to guests and have the time and space to identify employment options and permanent housing opportunities with guests, which can take weeks.
Covid-19 Emergency Shelter
Hub Hotel Development Timeline