The Hospitality Hub's new campus embodies kindness, a quality that has made our organization a trusted advisor and friend to thousands of unhoused people since we began our work in 2007.

Following years of planning, fundraising, and collaboration with private and public partners across Memphis, we are pleased to share new and expanded resources with our community. Here are several of the wonderful new features on the Hub Campus that will serve our guests and partner organizations for years to come:
The Hub Hotel is the region's first barrier-free emergency shelter for women. It is a thoughtfully created and trauma-informed space to promote healing and provide the stability guests need to move out of homelessness.
The shelter welcomes all women, including trans women, and their accompanying children. To ensure that spaces can accommodate the varying needs of guests, the Hub Hotel has 31 beds, 17 trundle beds, and several playards and cribs. The shelter also has nine guest bathrooms, a laundry room, quiet room, outdoor patio, snack room, and family room.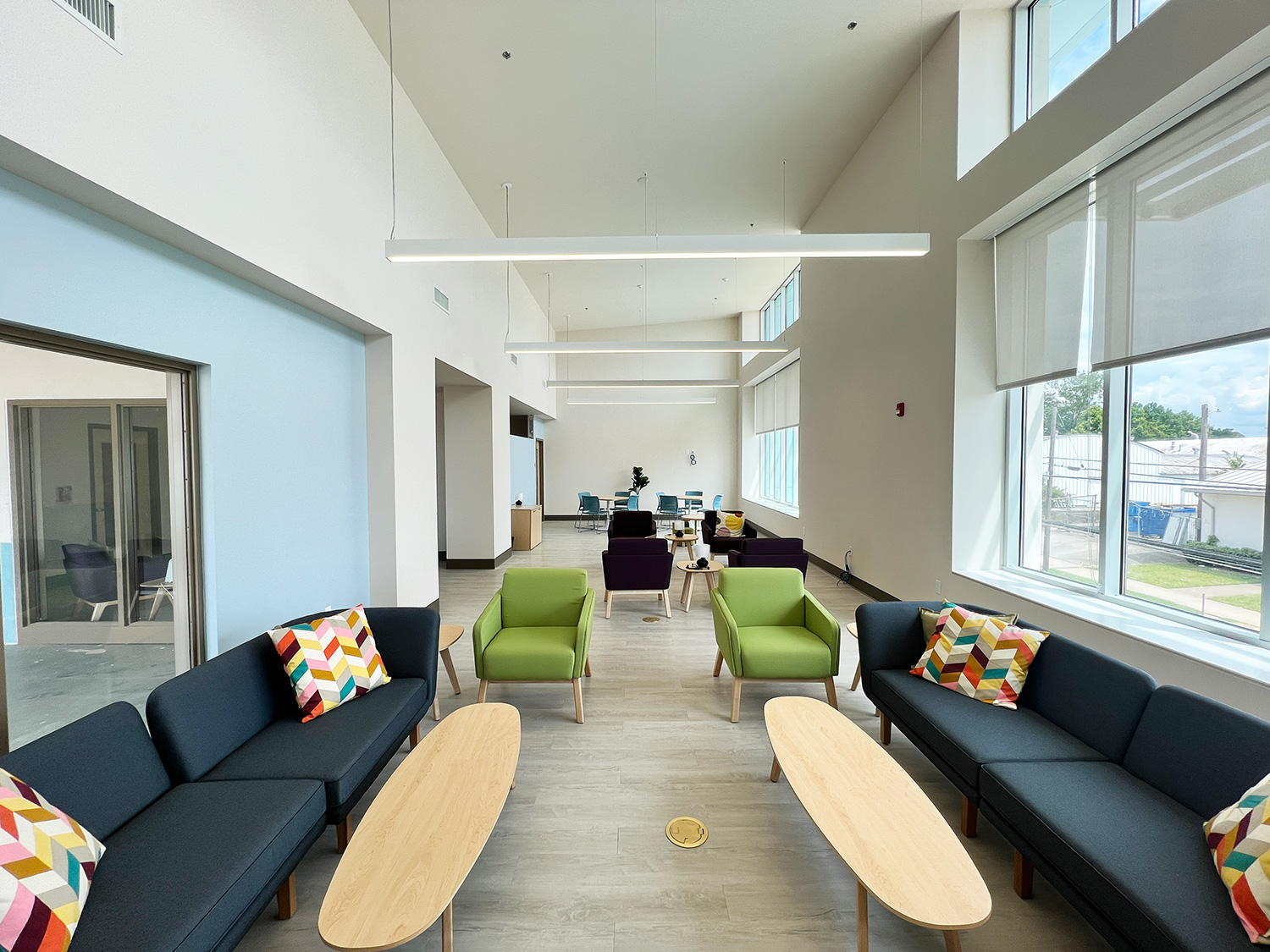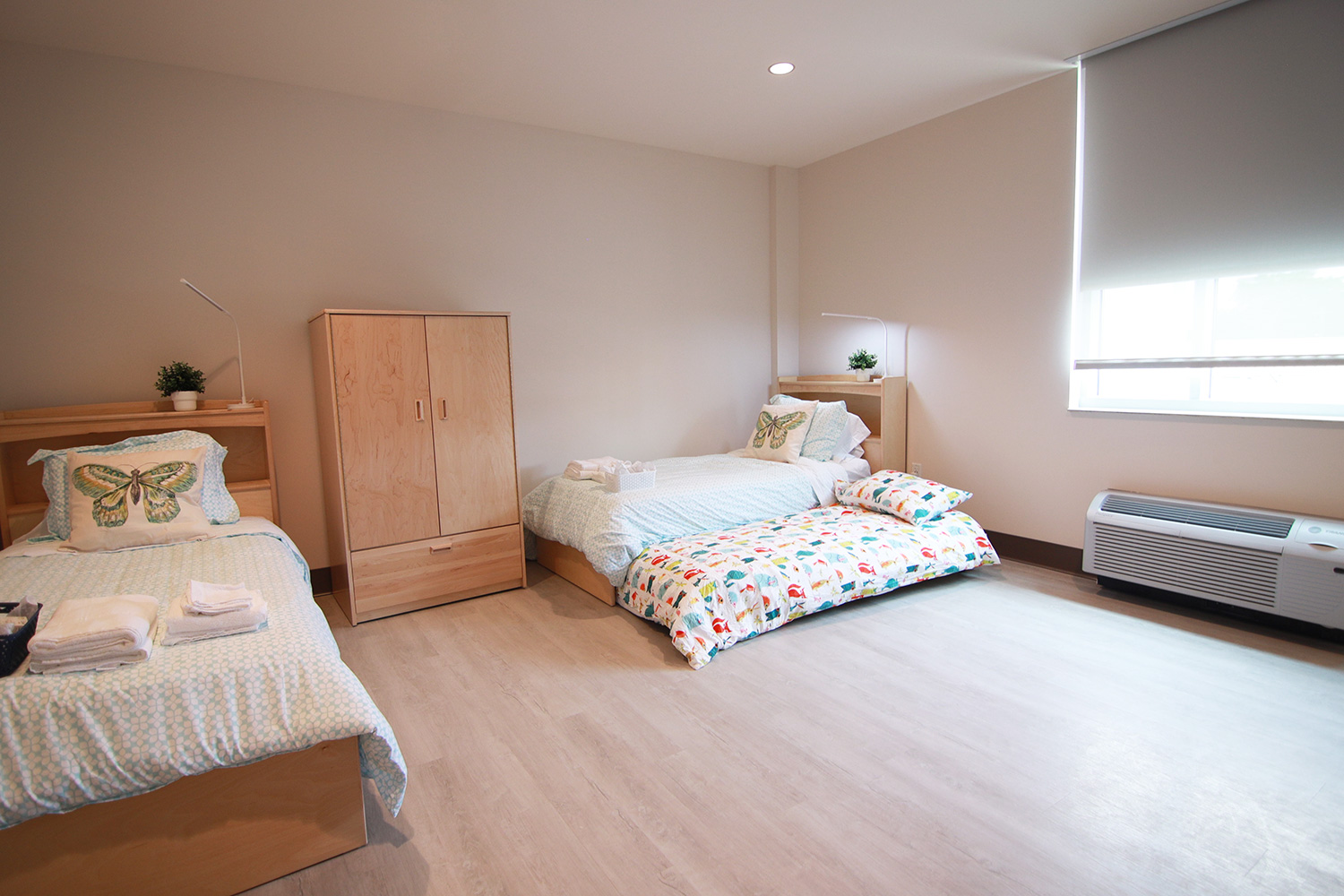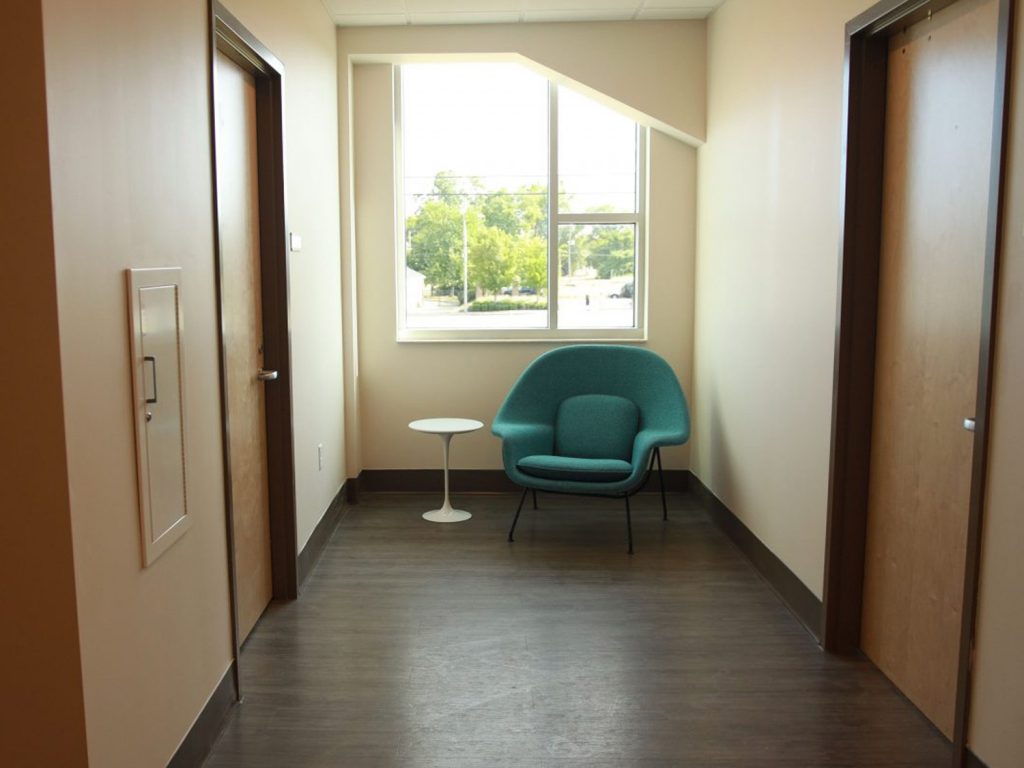 The Hub Hotel's design is trauma-informed, meaning that the textures, colors, shapes, and spaces promote a sense of calm, safety, dignity, empowerment, and well-being. Spaces, a Memphis-based, women-owned company, generously contributed their time to select the optimal furniture for each space in the building and also donated furniture pieces. The throw pillows, plants, and comforter covers in each room were donated by Ikea, which has also supported the furnishing of the Hub Studios.
The Hub Hotel is barrier-free, meaning there are no obstacles to accessing services. It operates on the premise that homelessness results from economic and systemic failures—not personal choice. We built the shelter to be a safe landing place for women who have experienced marginalization, exploitation, and discrimination. Hub staff meet with each guest to understand their backgrounds, circumstances, and goals to understand what benefits, employment opportunities, and housing options best fit their needs. The Hospitality Hub works to provide stability to guests so they have time to heal and focus on moving out of homelessness.
Private Greenspaces for Hub Hotel Guests and Staff
Adjacent to the Hub Hotel Dining Room is a private outdoor greenspace with a water feature, seating, shade structure and tables for alfresco dining. The beautiful space maintains privacy with a soft, undulating fence and plantings that will grow in the coming years to provide distinct areas of seclusion.
The Hub Team and partners will have access to a calm, shaded courtyard in the rear of the building where they can decompress during breaks, host meetings with colleagues, and enjoy moments of privacy.
Kitchen & Dining Room
The Hub Hotel kitchen provides three free meals per day to Hub Hotel guests. When the Hub Hotel program initially began in the wake of the COVID pandemic in 2020, we noticed that donated meals were one of the most stabilizing services provided to guests. Rather than focusing their time, energy, and money on finding their next meal, Hub Hotel guests can re-focus their attention on accessing benefits, job opportunities, and housing.
The dining room, adjacent to the kitchen, is filled with light from the large windows overlooking the private women's garden. It is a communal space to sit with friends and family while enjoying fresh, homemade meals.
Reception Lobby
The lobby of the new Hub building is an inviting and comfortable space with ample seating, unlimited free coffee, public restrooms, WiFi, iPads available for use, and a reception area where guests can access mail services and prepare to speak to a case counselor.
Guest Services
The Hospitality Hub's new guest services space acts as an extension of the reception lobby where case counselors meet with guests to understand the challenges they face in moving out of homelessness and to co-create solutions to address those challenges. The guest services space prioritizes the comfort and privacy of guests so that they can focus on creating pathways out of homelessness.
The Day Plaza
25,000sf of world-class public park space created specifically for people experiencing homelessness. The Day Plaza is one of three green spaces located at 590 Washington designed in partnership with Nature Sacred. The park will provide a canopy, plantings, and topography for what is otherwise a flat concrete urban environment. Everyone is welcome at the Day Plaza. The Hub encourages partners to use the Plaza to engage the homeless community. Other amenities include seating, picnic tables, hammocks, walking paths, an amphitheater, public restrooms, water, electrical outlets, and lockers. The park will offer a place to safely rest adjacent to all the services offered by the Hub and access to the City's Continuum of Care.
Community Room
The Community Room is an area optimized for guests participating in classes, training, or presentations. It also serves as a flexible space where community partners can connect with guests or host meetings with other members of the Continuum of Care.
Flex space for partners
Organizations, healthcare institutions, and businesses will have access to office space and a health room where they can set up a temporary home base to provide services to members of the unhoused community.
Scosha Salon
The Scosha Salon is sponsored by Pavo Salon, whose co-owners Scot and Shawn have been working in the beauty industry for over three decades. It has two styling stations, two hair wash stations, and countless hair tools, accessories, and products for Hospitality Hub guests to enjoy. Stylists from across Memphis have lined up to provide services to guests on a volunteer basis.
The Playroom
As the Hospitality Hub planned the new building, we sought to create a space specifically for families and children who seek services or shelter. In particular, we wanted a space where children could play comfortably as their parents spoke with case counselors. The playroom has toys, books, and child-sized furniture so that kids can be themselves while they're at the Hub.
Work Local
A portion of the new building is dedicated to the Hub's Work Local and Street Outreach programs. Work Local, the Hub's incredibly successful program to provide temporary fair-wage work opportunities for our guests, will have an area to store equipment, materials, and gear used by program participants.
Street Outreach
The Street Outreach program, which meets individuals where they are to connect them with pathways out of homelessness, will operate out of an office located on the Day Plaza. Individuals who are hesitant to enter the new building to access services can make themselves comfortable in the sitting and lounging areas of the Plaza, where the Outreach team can repeatedly connect with them to build relationships. Additionally, the Hub Studios, which are located adjacent to the Day Plaza office, mainly serve guests who have relationships with and feel comfortable around the Street Outreach team.